Roofing Contractors
When you want exceptional roofing contractors in Portland you want Pioneer Roofers. Our name says it all. As roofing contractors, we're consistently at the forefront. We stay at the cutting edge, revising practices and standards to reflect evolution of this industry. This includes utilization of the best materials, so that the exceptional quality of our construction is mirrored by the products we use to build it. As new technology becomes available, we learn it and test it to ensure we are consistently offering best practices to our customers. When we find ways of adding efficiency that amount to savings, we are also happy to pass that along to our customers.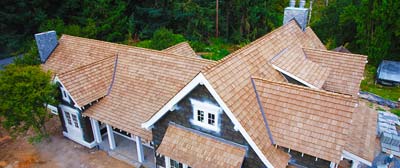 We don't just construct the homes you live in and the businesses you frequent every day, we live in them as well. We have been Portland's roofing contractors of choice for over 20 years. In that time we have seen the city grow into one of the greenest in the nation. We makes sure this sentiment is reflected in every roofing contractor job we do. One way we accomplish this is by using eco-friendly products. Whether we are building a gorgeous and functional roof garden or performing emergency repairs, we leave the smallest footprint possible.
With vast experience working on both home and commercial projects, we can design, build, and maintain any style of roofing. Our designers are happy to help you identify the right roof for your needs. Our roofers are highly experienced, meaning you get a better work in less time.
Some work our roofing contractors do includes:

Tile Roofing
Asphalt Shingle Roofing
Reliable Roofing Contractors Portland Trusts
You can count on honest, reliable advice after a roof inspection on any repair you may or may not need. You may only need a small section of your roofing worked on in order to replace cracked or missing tiles, shingles, or other roofing materials. Other times, the more efficient and cost-effective way to go is with a full tear-off and replacement, rather than deal with ongoing spot repairs over and over. In either case, you can count on our roofing contractors for open communication about the state of your roof and the best course of action to maintain it.
As roofing contractors in Portland we strive to provide exceptional workmanship in any conditions. This beautiful city isn't always shining, but that doesn't have to bring your project to a halt. As experienced roofing contractors, we work around inclement weather, making sure your project stays on target and on time.
When you're looking for friendly service, reliable workers, and guarantees you can truly trust, we deliver. Our business was built on integrity and excellent craftsmanship. We offer upfront pricing, in writing. Our staff and contractors are knowledgeable, approachable, and happy to answer any of your questions.
Satisfied customers don't just help us grow, they make the job worthwhile. That's why our goal is to raise the bar for what it means to be roofing contractors in Portland.
Contact us today to schedule an inspection with our dedicated roofing contractors in Portland and see the difference we can make.
External Resources