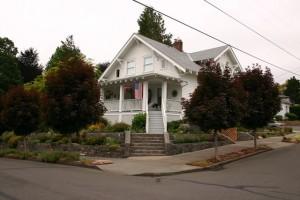 Need A New, Quality Roof Installed?
At Pioneer Roofers, we offer a variety of top-notch roof installation services in Portland. We have many different options to choose from. This gives you an ample opportunity to find a roof that you can be proud of. We are your best choice for roofing services in Portland, Oregon. Residential Roofing.
Flat and Pitched Roof Types
There are two main roof types that work best for residential homes. These types are flat roofs and pitched roofs. Flat roofs are often preferred for design purposes. Flat roofs are also less expensive to install and maintain. Flat roofs can make it easier to add multiple floors to any building or structure.
Pitched roofs are the most common roof types in Portland. They give a homey feeling that many people prefer to the more elaborate designs of the flat roof. Pitched roofs are sloped. Allowing rain and other precipitation to flow off easily. Pitched roofs require less frequent maintenance and will last longer than a flat roof as well. They are, however, a little more expensive and time consuming to install.

No matter what roof you have, damages can occur. We offer full roof replacements on all roofs. Damages can include broken shingles, leaks, and mildew along the base. These can sometimes simply be repaired. There are instances when a full roof replacement is the only option. With us, you will get a replacement made from the highest quality materials, delivered with the premier customer service that we are known for.
We have years of experience with roofing in the Portland area. You can trust us to know everything that goes into a quality roof in the Pacific Northwest.