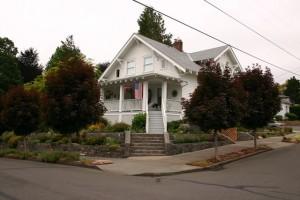 The perfect roof installation for Portland's homes and businesses
At Pioneer Roofers, we offer a variety of top-notch installation services for the entire Portland metro area. Our wide selection of roofing options will give you an ample opportunity to choose a roof that not only looks great but is reliable for years to come. There are variety of options when it comes to choosing a roof that is the perfect fit for your home or business, but we'll be here to help you through the initial stages of learning the benefits of each roofing style to the finishing touches of the roofing construction.
Get quality flat or pitched roof installation from our Roofing Portland professionals
Flat roofs and pitched roofs are the primary choices for Portland area buildings with each presenting their own benefits for residential or commercial buildings.
A great benefit of Flat roofs is their cost, since they are less expensive to install and maintain. Repair costs of labor and materials are significantly less than other types of roofs, and installation risk is also lower. This means the roof construction will cost less as well. Flat roofs also prove great for design purposes with level surfaces that allow for easier construction of multiple floors. This open external space provides room for air conditioning units, solar panels, or other applications as well.
Pitched roofs are great for the Portland area since their shape allows these roofs drain and shed water efficiently. This means they ultimately require less frequent repair and maintenance, and tend to have a longer life span than flat roofs. Their shape also preserves energy by allowing more natural ventilation between the inside and outside of the building. Pitched roofs provide more space inside your home or business as well, allowing for storage or living space. They are, however, a little more expensive and time-consuming to install.
Make sure your Portland Oregon roof is stable for years after installation

No matter what roof you choose, damages will eventually occur over time. From broken shingles and leaks to mildew growth and wall stains from excessive roof moisture, we'll make sure you never have to stress about these inconveniences on your residential or commercial roof. Whether we installed the roof on your Portland home or business, or your roof was constructed a long time ago and is in need of serious maintenance, we'll determine the quickest and most thorough solution to returning the roof to its best condition.
Our 24-hour emergency roof repair division in Portland is available any time of day or night to handle your roofing needs and concerns. We are available for inspections and estimates, and our 20 years of know-how and thorough professionalism ensures that you will go into any roof repair plan with complete confidence.
We can remove your Portland roof too!
There are also instances when a full roof replacement is the only option. With Pioneer Roofers, you will get a replacement made from the highest quality materials, delivered with the premier customer service that we are known for. We have years of experience with roofing in the Portland area. You can trust us to know everything that goes into a quality roof in Portland, so feel free to ask about our full roof replacements on all roofs.