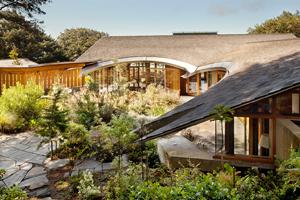 Quality Pitched Roof Services
The installation and repair of pitched roofs in Portland have been a specialty of Pioneer Roofers for 20 years. Since 1994, we have been providing exceptional customer service and premier pitched roofs for residences and commercial buildings in the area. Quality Pitched roofs are especially popular in our area because they shed rainfall and water so nicely.
Residential Roofing | Commercial Roofing
They are also the traditional option for many homes, and homeowners love the look of them, as they tend to be more welcoming and are better at giving off a homey feel. If you are thinking of installing a pitched roof, or are in need of pitched roof repairs, give us a call at Pioneer Roofers and we can handle all of your needs.
---
Pitched Roof Contractor Service
Pitched Roof Cleaning

For pitched roofs, clearing any debris away can be a bit of a chore, as the roof slopes and has an uneven footing. If you are not careful, you could slip, fall, or trip over the uneven areas. If you are concerned about the state of your pitched roof, but are unable to navigate the surface to clean it properly, you can call us at Pioneer Roofers to handle the roof cleaning for you. No one wants a roof that is full of moss, algae stains, or other debris. Having a clean roof is great for the overall health of both your home and you and your family.

Pitched Roof Repair

We use quality materials and techniques to ensure your roof is built to last. We strive to put our customers first and take all of their needs into consideration while performing the work set out before us. Our staff is highly trained in all aspects of roofing including pitched roof repair, so you can be sure we will give you the best service available. As a licensed roofing contractor, Pioneer Roofers is up-to-date on all new and developing roofing regulations and guidelines. For this reason, you know that your roofing needs will be met.

Pitched Roof Installation

For any pitched roof project, Pioneer Roofers uses only the best materials available. We do this because we want to stand behind any work we do, and by using the best materials we can ensure your roof will last for a long time into the future. If you want a pitched roof installation that is guaranteed to last for years, you want to hire Pioneer Roofers. Once your pitched roof has been installed or repaired, you do not want to worry about its condition a few months or years later. You want a roof that will last through aging and normal wear. With Pioneer Roofers, you will get that roof.

24 Hour Roofing Services

For any of your pitched roof needs, contact Pioneer Roofers. We specialize in pitched roof installations and repairs, allowing for both quality and performance. We provide any and all pitched roof services, so give us a call today and get the roof you always wanted and have always deserved. Our 24-hour Roofing Service means you can call at any time.