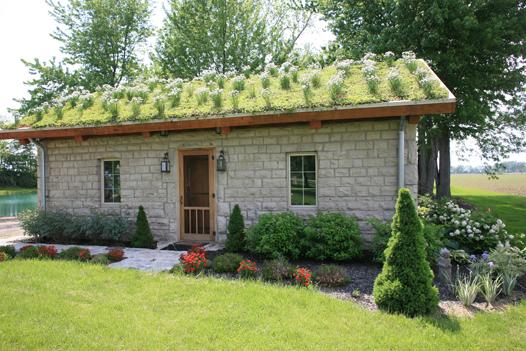 Advantages
The outdoor living space and living roof movement is spreading rapidly, and for good reason. Pioneer Roofers specializes in many different forms of outdoor living spaces, including gardens and patio roofs. Outdoor living spaces can be installed on residential buildings or commercial buildings, and offer many advantages over traditional roofing methods.
Not only can great Patio Roofs turn your building from something dull to something beautiful, but they also are better for the environment and add character and color to the surrounding areas. If you are interested in installation of Patio Roofs and want to see about installing one on your building, we can provide you with the information and installation that you will need.
---
Roofs in Portland

More and more people every year are becoming concerned about the environment and the impact humans can have on it. With a living, green roof, you can limit your negative impact on the environment. Living and patio roofs provide better air quality in the areas directly around your building, and also conserve energy usage with fights the heat-island effect that is present in a lot of cities and populated areas. If the environment is something that concerns you, patio roofs, equipped with many different natural elements, could be just what you are looking for.

Outdoor Living Spaces

Not only will a livening roof benefit the environment, but it will also benefit you in the long run. With cleaner air and more green space, you and your family will enjoy increased health benefits. A healthier lifestyle helps you live longer and find more enjoyment in your everyday life. By using less energy, your monthly energy bills will be much lower as well. While patio roofs spaces tend to be more expensive at installation, the money you save every month on energy bills will more than makeup for the additional costs in the long run. Another benefit of patio roofs is that they tend to last longer than traditional roofs, meaning you won't have to pay as much for replacements and repairs. This is just another way outdoor living spaces save you money over time.

Garden Tops

Water absorption is another benefit that garden roofs offer. The plants and other growths store rainwater and evaporate it into the atmosphere on dry days. If you have an office building near a river or other body of water, the reduced stormwater runoff can have significant benefits on the quality of water in the river. They can also reduce flooding threats by storing additional water during times of excessive rainfall.

Outdoor Living Space Contractor

To a live roof contractor, there are two main types of patio roofs: intensive and extensive. Intensive outdoor spaces are designed to be accessible to humans and pets. They are like small parks, providing a relaxing and peaceful retreat for many different people and animals that would like to spend more time amongst nature. Any number of plants and designs can be implemented, as long as the weight is properly accounted for and dealt with in the structure of the building. Extensive patio roofs are designed to be more self-sustaining and require less maintenance. They are much lighter and need less support from the structure of the building as well.

Installation

Outdoor living spaces can also be installed in a couple different ways. The first way is during the construction of a new building. patio roofs spaces can be built directly with the building. This method is a little easier overall, as the plans for the structure are created to include the extra weight and distributions. Outdoor living spaces can also be retrofit onto existing structures, though additional work may be necessary to account for weight distribution on the structure itself. Pioneer Roofers can handle either method and provide you with a living roof of the highest quality.

Living Tops

No matter what type of living roof you are considering, as a patio roof contractor, we can help you through the entire process. From the early planning stages to the final installation, our knowledgeable and friendly staff is equipped to handle everything. We can install a garden for your home, or an extensive natural area for employees who are expected to spend large amounts of time in an office building. The many benefits of outdoor living spaces allow them to pay for themselves over time. As living conditions improve, you can expect to enjoy greater health and lower monthly bills. Contact us today for any patio roofs needs you may have.

Other Roof Services We Offer