Benefits of Garden Roofs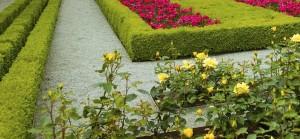 When you've got limited space but still want to enjoy the benefits of a garden roofs Lake Oswego clients can enjoy aren't limited. If you've never heard of a garden roof, Pioneer Roofers is the perfect place to get started. If you already know how great they are, we can help you build the perfect one.
Garden roofs from the ground up.
When you choose a garden roof, you just get more. Unlike typical roofs there is a design element to a garden roof. Depending on the layout and design these types of roofs can support trees, grass, plants, vegetables, flowers, and human occupants. This multi-functionality makes them ideal in city settings where space is limited. As a variety of flat roof, they actually extend the square footage of your property.
Our roofing company has been on the cutting edge of garden roof installation in Lake Oswego for over 20 years. We can help you conceptualize they layout of your new garden roof. Whether you want to plant for beauty or functionality, low maintenance or something that needs tending, we can create it. One of the great aspects of a garden roof is that they can be created with paths, openings, and other communal areas.
The Benefits of Garden Roofs will Astound You
Improve your quality of life – With garden roofs, Lake Oswego residents can enjoy a major quality of life increase. This is magnified for those living in apartment complexes. Garden roofs provide a place to meet, congregate, and enjoy nature when access is limited or unavailable. Studies have shown bees, birds, and other insects will frequently stop in these areas, sometimes even integrating them into migrational patterns.
Energy and pollution reduction – It's easy to think that a garden roof would cost more than a standard roof. After all, you have to tend to the greenery. This is not true. Garden roofs provide incredible insulation. This keeps heat in and cold out during winter, and has the opposite effect during summer. Studies have indicated the entire cost of a garden roof can be saved in energy costs alone over its lifetime. Vegetation helps to remove carbon and air pollutants, reducing your building's overall carbon footprint.
Natural storm water management – Garden roofs in Lake Oswego naturally retain precipitation from rainfall. In winter this may be as high as 40%. In summer it can reach 90%. Once plants, grass, and trees use the water they need any extra releases through evaporation. This filters the water, and greatly reduces storm water runoff.
Contact us for garden roof installation today!


It's time to get started. We can can customize garden roofs to fit a specific biome and attract certain birds and insect species. We can also focus design where you want. From growing food to walkways, lounge areas, and flower gardens, we can do it all. The choice is yours. As one of the most environmentally friendly, economical, and well rounded roof solutions you can achieve, what are you waiting for?
For professionally designed and installed garden roofs in Lake Oswego call (503) 281-0305 or contact us today.
Other Services Include: