Beautiful Garden Roofs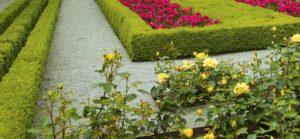 Do you want a yard but you have limited space? For many city property owners this is a constant. Whether it's a property group building a new high-rise or a home owner on a block where the properties are squeezed in, a yard can seem like a pipe dream. Witha great garden roofs in Beaverton from Pioneer Roofers, your dreams can become reality.
Beaverton is a green city. Recycling, renewability, and space management play a large role in sustainability. This has been the driving factor behind our garden roofs in Beaverton, and that's why we've become industry leaders in their construction. From installation to maintenance and repair, we're your complete garden roof solution. They provide a number of incredible benefits, and you may be surprised to find out just how helpful garden roofs can be.
Garden Roofs provide Amazing Benefits
Quality of Life – Garden roofs in Beaverton can increase the quality of life for those living in apartments and residential homes. With limited space in cities, the benefit to residents provided by garden roofs is immeasurable. Garden roofs function as multi-use spaces. They're perfect for flower and vegetable gardens, as meeting spaces, hangout areas, and for promoting health and relaxation. Residents will love being so close to nature while still having easy access to modern amenities, making garden roofs in Beaverton a major draw.
Pollution and Energy Reductions – It's easy to forget, but just because garden roofs are life enriching it doesn't mean they come without financial benefits. Garden Roofs in Beaverton naturally insulate your property. They keep in heat when it's cold, and absorb heat when its too hot. The absorption occurs in the natural areas, keeping it from penetrating into the building. This can save money for residents, reducing the need for electric or gas powered heating and cooling. Studies have shown that these savings can offset the entire cost of a garden roof in Beaverton over its lifespan. Vegetation also reduces a buildings carbon footprint by naturally removing air pollution.
Stormwater Management – Precipitation from rainfall is naturally retained by garden roofs in Beaverton. This can be as high as 40% in the winter and 90% during summer. Plants and grass will then use as much water as they need, releasing the rest through evaporation. That provides natural filtration for run off water. It also aids in reducing stormwater runoff by a large margin, further reducing the strain placed on the sewer system.
Other Services Include:
---

Your Garden Roof Installers
We create gorgeous, functional, and strong garden roofs in Beaverton. We're happy to accommodate specific needs, creating customized biomes for your garden. Focusing the species of plants, bushes, and flowers allows us to help you attract specific birds and insects. Studies have shown that garden roofs promote wildlife diversity over regular roofs. This includes migrating birds and unique insects that would otherwise pass your building by.
If you want a garden roof in Beaverton that focuses on the human element, we excel there as well. Our garden roofs can easily be designed with intentional walkways and clearings for lounging and recreation. We can even merge the two, designing functioning garden areas that seamlessly integrate with those laid out for residents. As one of the most economical, environmentally friendly, and well rounded roofing solutions you can get, isn't it time you started enjoying the benefits of a garden roof?
When you want beautifully designed, professionally constructed garden roofs in Beaverton call (503) 281-0305 or Contact Us today.