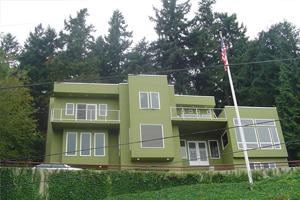 Different kind of Flat Roofs
Portland is known for its interesting buildings and architectural designs, including the industrial look that flat roofs in Portland bring to the area. Since the nature of the weather in the Pacific Northwest is so volatile, it is no wonder the quality flat roof industries booming. Pioneer Roofers has been serving Portland residents with all their flat roof installation needs since 1994.
Residential Roofing | Commercial Roofing
Our staff has extensive experience in all aspects of flat roof repair and installation, including residential and commercial needs. We will be able to handle any project that comes our way in regards to flat roofs. Our services include everything from simple repairs to complete reroofing projects. Our team here at Pioneer Roofers has you covered.
---
Flat Roof Inspection

There are many benefits that owners of flat roofs enjoy. The first major advantage is that flat roofs are much easier to inspect for damages and debris. A flat roof offers a more even surface to walk over, meaning you will not have as much trouble performing your inspections yourself. However, we can still perform the inspections for you and obviously will if a repair is necessary. A flat roof will also be less expensive to install and repair, meaning you will be able to save a lot of money in the long run.

Flat Roof Repair

A flat roof will need to be resealed, recoated, and repaired every couple years to ensure it maintains its high level of performance, and Pioneer Roofers can perform that task for you. This will ensure the roof lasts a long time and keeps your building protected from the natural elements of the outside world. Overall, flat roofs cost you a lot less in maintenance and care. You can also be more experimental with your architectural designs if you decide to get a flat roof, as they are far more versatile in the design process. With a flat roof, your only limitation is your imagination.

Flat Roof Installation

When it comes to flat roof installation and repair, our staff is highly trained in all the latest techniques and methods to ensure you are getting the highest quality roof available. We are a licensed roofing business, meaning we follow all city regulations and are aware of all the latest building techniques, like flat roof installation to ensure you are getting the best product that is available. If you hire Pioneer Roofers for your roofing needs, you can rest assured that you are getting the best possible service and the best product you can.

Lifetime Flat Roof Warranty

We use only premier parts and materials in all of our projects, so you know you are getting a flat roof that will last you for years to come. Our goal is to provide you with a Flat Roofs that lasts a lifetime, and we back up that statement by offering a 15-25 year warranty on every project we complete. You can be sure your repairs are always done right. If you are in need of a flat roof repair or installation, give us a call today at Pioneer Roofers and we will provide you with the best service you can find in the Portland area. We are the top choice for roofing services in the Portland area.