Efficient and trustworthy flat roof repair in Lake Oswego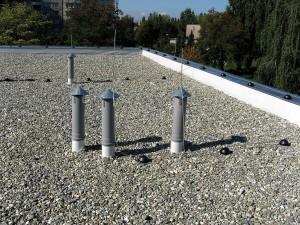 Flat roofs are a great choice for your Lake Oswego home or business; they provide solid protection, easy cleaning, and dual purpose functionality. Neglect and environmental hazards can cause significant roof damage to them, however, and this can affect other areas of your home or business. A well maintained flat roof generally last longer than other varieties of roofs, but only if damages are well-maintained by longtime professionals. Pioneer Roofers' 20 years in all things roofing make us the premier repair experts in the Lake Oswego. For fast, effective, and high-quality flat roof repair services, Lake Oswego residents should call Pioneer Roofers. 
Our expert services cover the full flat roof repair process
When you call Pioneer Roofers about an issue with your flat roof, we'll take an exhaustive look at the problem before determining a permanent and safe solution. Some important steps in this service include:
Fast Damage Remediation – When you call us for roof repair, we provide damage remediation first. This is especially important in an emergency situation. Water damage is progressive. It multiplies instead of moving at a constant pace. We quickly identify damaged areas and take immediate action to stop and limit any ongoing growth. This can save you from costly restoration down the road.
Accurate Diagnosis – Our roofers and technicians know exactly what to look for. Once ongoing flat roof damage is contained, we'll identify the severity of the problem. Before moving forward with repairs we'll consult you and ensure you're comfortable with any projects moving forward. Our experienced technicians thoroughly explain pricing, repair time, and the extent of the damage. We know this can be stressful, and are happy to answer any of your questions at any time.
Expert Contracting – When our experts perform roof repair, we don't just bandage the problem. We'll restore your roof to its original strength and protection, no matter the extent of damage. This is done using the highest quality materials and construction techniques. Whether they're homes or commercial properties, our extensive experience allows us to approach each project with the same familiarity and expertise. Don't trust a jack-of-all-trades company that "does roofing too." Choose a local roofing company that specializes on all things roofing in the Lake Oswego area. Roofing is all we do, and we do it better than anyone.
Comprehensive flat roof repair for major problems and minor inconveniences
Our services cover any range of flat roof damage in Lake Oswego with the same methodical approach, whether your roof is suffering from severe and immediate damage or minor issues that commonly occur. Tackling smaller inconveniences is important to ensuring a long lifespan for your roof and ensuring major issues don't emerge down the road. Some of these more familiar issues for Lake Oswego buildings include:
Flat Roof Leaks – Leaking in flat roofs is fairly common and can ultimately lead to structural damage in the building. Protecting your roof from leaking is essential if there is little buffer between the roof and the inside of your building. We're highly experienced in locating and repairing leaks. If you believe you have one, there's no time to wait.
Improper Drainage – If a roof isn't adequately pitched or a drainage system is improperly set up, water will start to pool or drain too close to the building. This moisture can eventually erode the building's foundation if you fail to assess the problem at an early stage. Contact us today if you notice improper drainage on your flat roof, and we'll save you from a headache down the road.
Water Ponding – When your roof is incorrectly pitched, or wear has caused it to bow in the middle, ponding can occur. If this gets heavy enough it can burst through the ceiling. We'll drain the water and repair any damages that accrued during the ponding. Sometimes it's even as simple as a clogged drain, so call for a prompt diagnosis and professional roofing.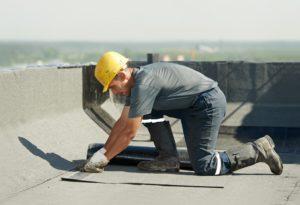 Emergency flat roof repair for Lake Oswego is a phone call away.
We are available for repairs in the Lake Oswego area at a moments notice. Water damage can often be progressive, causing compounding damage every hour. So if you notice any water-related issues on your roof, don't hesitate to call us.
---