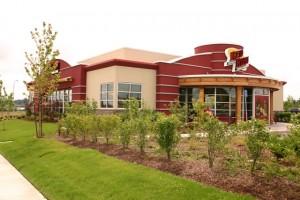 Different Kinds Of Commercial Roof Replacement
At Pioneer Roofers, we value quality customer service and quality work over all other things. That is why we offer the best commercial roof replacement services in Portland. No matter the kind of roof you want for your business or home, we will be able to deliver the a quality product. We hire only the most knowledgeable contractors so that we can guarantee the best work on your roof. No matter the type of commercial roof replacement you want, we can ensure you get a quality product that you can be satisfied with. If you need a new roof installed for your office building, give us a call and we can get started on the project right away.
Commercial Flat and Pitched Roof Replacement
Whether you are building a new home, a new business, or need an old roof removed so you can install a new one, we can make sure you end up with a roof you can be proud of. We install many different types of roofs, including pitched, flat, and green roofs. Pitched roofs are more traditional and give off a welcoming vibe that many homeowners appreciate and desire. They also are great for the Pacific Northwest climate, as they drain faster and let the water flow much easier than alternative styles.

Flat Roofs leave more room for creativity and offer a lot more variety in design options. If you are looking for something more creative or customized, a flat roof is probably the choice you will want to consider. Traditionally, flat roofs are much less expensive to install and maintain; although, in rainy climates like the Pacific Northwest, you may have to perform maintenance more often to make sure you don't run into any complications further down the road. Flat roofs are easier to care for, however; so, the more frequent maintenance should not be too much of a problem.
Green roofs or patio roofs are equipped with a natural garden on top of the building. They are fantastic for the environment, as they improve the surrounding area and can even help keep the area cooler since the sun will not be beating down on plain stone. Green roofs also provide better air quality around the office, which could be a great benefit for employees and customers if you have a green roof for your business. The better air quality will lead to better health. This means that green roofs are fantastic choices for those looking to help the environment and improve the overall health of people in their office.
If you need your roof needs replaced and start from scratch, give us a call today to start with a roof tear off. We specialize in a variety of different roof styles, meaning you will be sure to find one that satisfies your needs and provides the services that you want. Our friendly, knowledgeable staff has been well-trained and is willing to handle any situation that arises. For roof replacement in Portland, call us today so we can get started on your new roof. (503) 281-0305
Let Us Raise The Bar On Your Roof
A quality roof is a crucial element to any structure. When it comes to your roof, we have the team, quality materials and expertise to take care of your office building. Our commercial roofing company can do more than simple jobs. We can perform any type of roof work. Our training and experience is what sets us above our competition.
Does your roof need help? Our work speaks for itself! Contact us today for an estimate and speak to one of our expert contractors about the issues you are experiencing!