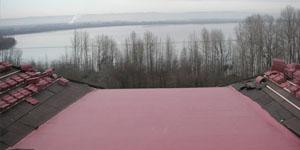 Benefits of Commercial Roof Installation
At Pioneer Roofers, we offer a variety of roof types and roof replacements that are designed to give your business the best possible roof. With great Commercial Roof Installation in Portland, our friendly staff is well-trained and knowledgeable about the various roof types and will help you determine which design is best for you and your business. Each roof type has its own benefits and disadvantages; and, deciding which one is best for you can be difficult if you are not sure about what each type has to offer. Talk to one of our contractors and we will get you set up with the best commercial roof installation for your needs.
Commercial Flat and Pitched Roof Installation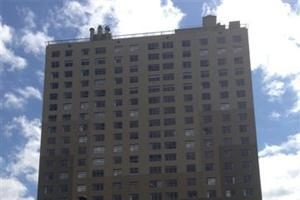 Pitched roofs – are preferred by many homeowners, but they work for business owners as well. The aesthetic look of a pitched roof is very appealing to many people, and it gives off a more traditional feel to your place of business, making it seem more welcoming and warm. Pitched roofs also have practical benefits. They drain and shed water much more efficiently than other styles, and repairs are less frequent because of this. Pitched roofs can also be repaired more easily, simply because the damage is less frequent and is generally not as serious. Commercial Roof Installation, Pioneer Roofers offers the best in pitched roofs and can get you set up with a quality style that suits your needs.
Flat roofs – are another style that are perfect for business buildings with multiple floors. They make it easier to stack floors on top of one another, and can even be better for design purposes, as the roofer has more to work with when designing a flat roof. They also have lower maintenance needs, but may need to be repaired more often if your business is in a place that tends to get a lot of rain. You have many different options when it comes to flat roof design, making flat roofs a great choice for your business. You can discuss these options with us at Pioneer Roofers, and we will find one that works best for you and your business.
Commercial Roof Repair
If and when your roof needs significant repair or even replacements, Pioneer Roofers can help you there as well. No matter the damage sustained, be it shingle damage, leaks, or something even more serious, Pioneer Roofers can get your roof back in working condition. If the roof is beyond repair, we can get you a replacement roof that suits your business' needs and also makes your building look like new again. If you need a replacement roof, contact Pioneer Roofers and we will help you out.
No matter the type of roof you have or want, Pioneer Roofers will deliver. We work directly with you to determine what your needs are so you can be assured that by the time the project is finished, you will be completely satisfied. Quality customer service is our number one goal, and getting you the roof that you want is important to us. If you need a new type of roof, or simply need to replace your old one with a fresh tear off, contact Pioneer Roofers today.
Let Us Raise The Bar On Your Roof
A quality roof is a crucial element to any structure. When it comes to your roof, we have the team, quality materials and expertise to take care of your office building. Our commercial roofing company can do more than simple jobs. We can perform any type of roof work. Our training and experience is what sets us above our competition.
Does your roof need help? Our work speaks for itself! Contact us today for an estimate and speak to one of our expert contractors about the issues you are experiencing!