The roof is one of the most critical parts of your home or business, and it needs to be able to withstand a variety of weather conditions. As a result, choosing the right roofing material is essential. Some of the most common roofing materials are asphalt shingles, metal, tile, and slate. For commercial roofing, flat roof materials are also prevalent. It's also essential to strike a balance between upfront cost and durability; an initially cheap roof may cost you more in roof repair in the long run. In this post, we'll discuss the advantages and disadvantages of each of these common roofing materials.
Asphalt Shingles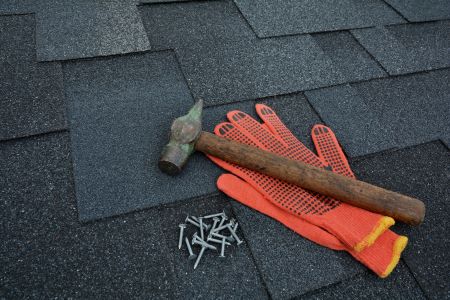 Asphalt shingles are the most popular choice because they are relatively inexpensive and easy to install. However, they have a shorter lifespan than other materials and are not as fire-resistant. They also tend to be the most vulnerable to damage. Asphalt shingles can be easily damaged by wind and hail, often needing to be replaced after just a few years.
Asphalt shingles are the most popular type of roofing material for a reason: they're affordable, easy to install, and available in a wide range of colors. However, if you live in an area with severe weather conditions, you may want to consider using another type of roofing material.
Metal Panels
Metal roofs are a popular choice for both commercial and residential buildings due to their long-term durability and fire-resistant properties. However, metal roofs can be more expensive than traditional asphalt shingles, and they can also be susceptible to damage from hail or high winds. In addition, metal roofs can oxidize over time, although this is usually not a problem with properly maintained roofs. Overall, metal roofs are a good choice for durability and fire resistance, but they may require more maintenance than other, more durable types of roofs.
While these problems can be addressed by repairs or replacement, they can also be expensive and time-consuming. As a result, it is crucial to weigh the pros and cons of metal roofs before deciding. For buildings in areas with severe weather conditions, metal roofs may not be the best option. However, if cost and maintenance are concerns, metal roofs may still be worth considering.
Tile Shingles
Tile roofs are another option, but they're generally more expensive than either asphalt or metal roofs. Tile roofs are durable and long-lasting but can be costly and heavy. Tile roofs can last for decades, but they're also extremely heavy and can be challenging to repair if they're damaged.
In addition, the tiles can crack or break if they're exposed to severe weather conditions or if they're not installed correctly. If you choose to install a tile roof, be sure to work with a qualified contractor who has experience with this type of roofing material. With proper installation and care, your tile roof will provide you with years of trouble-free service.
Slate Shingles
Slate roofs are the most expensive option but are also the most durable and fire-resistant. When choosing a roofing material, it is important to consider your budget and the climate in your area. Slate is one of the most durable roofing materials available, with a lifespan of 50 years or more. It is also one of the most expensive, which may deter some homeowners from choosing it for their roofs.
However, slate shingles can provide superior protection for your home against wind, rain, and other elements. Slate is also low-maintenance, resisting moss and algae growth, and it will not rot or deteriorate over time. If you are looking for a roof that will last a lifetime and require little to no maintenance, slate may be the right choice for you.
Built-Up Roofing
Built-up roofing (BUR) comprises layers of tar and gravel, asphalt, or other materials. It's a tried and tested roofing material, but it's becoming less popular among commercial properties. It's still used for smaller commercial and residential properties, but it is falling out of favor for larger commercial buildings.
While BUR may initially be a more cost-effective choice, it is important to consider the long-term costs associated with this roofing material. It is not as energy-efficient as other roofing choices and may need to be replaced more frequently. They're also not as weatherproof, potentially leaving your property open to water damage. When deciding what type of roofing to choose for a commercial building, it is important to weigh all the factors involved to make the best decision for the property.
Single-Ply Roofing
Due to its many benefits, single-ply roofing has overtaken built-up roofing in many commercial settings. It lasts much longer and is more energy-efficient. It's more expensive than built-up roofing, and it's more likely to be punctured by any debris, but it's also much more weatherproof; water damage is much less likely because single-ply roofing is heat-sealed.
Single-ply roofing is made from a single layer of synthetic material, which makes it much more resistant to weather damage than built-up roofing. It's also more energy-efficient, reflecting heat rather than absorbing it. While single-ply roofing is more expensive upfront than built-up roofing, its longer lifespan makes it a more cost-effective option in the long run. Additionally, single-ply roofing is less likely to be damaged by debris, making it a safer option for commercial buildings.
Choose Pioneer Roofers!
Whether you need roofing repair, replacement, or a new roof installation, Pioneer Roofers is the Lake Oswego roofing contractor you can trust. We have served the Lake Oswego area for over 20 years, and our commitment to quality workmanship is second to none. We use only the highest quality materials, and our team of experienced roofers will work quickly and efficiently to get the job done right. We even offer 24-hour emergency roof services; we know that roofing emergencies don't happen on a schedule.
Quality service is our goal for each and every customer – no matter the roof type. We understand that your roof is a crucial part of your home or business, and we will do everything possible to restore it to its original condition; you deserve that peace of mind. If you are not satisfied with our work, we will make it right. Contact Pioneer Roofers today so we can get started on your roofing job ASAP. In the meantime, take a look around our website for more information on our various services.