What Is The Difference Between A Residential And Commercial Roof?
It is important to understand that residential and commercial roofing are not the same. Installing a commercial roof generally requires more workers and can often take a month or more to complete. A residential roof can be installed in a day or two. This is partly due to size, but also because commercial roofing systems are often more complex and difficult to install.
Another big difference is the type of material used for each. Homes most often use asphalt shingles or concrete tile, as well as other less popular materials. These are rarely suitable for commercial roofs. Below are some of the more common types of materials used in commercial roofing.
---
Types of Commercial Roofs
The type of commercial roof that will be installed is based on the needs of the building, as well as the budget of the property owner. Environment, weather and other variables also play a role in deciding what will work best to maintain the roof's integrity over time. Looking at the most common classifications, as well as the materials used for commercial roofing projects will help you to understand why these distinctions are made.
Most commercial roofs are either flat or low slope. This actually lessens the options of roofing materials available. The most common Types of roofs include:
Built-Up Roofing (BUR) Membrane
Metal Roofing
Modified Bitumen Roofing
Thermoset (EPDM) Roof Membrane
Thermoplastic (PVC & TPO) Roof Membrane
Spray Polyurethane Foam Roofing
Garden "Green" Roofing
Built-Up Roofing
Built-Up Roofing (BUR) Systems, have been in use in the U.S. for more than a century. Often referred to as "tar and gravel" roofs, these systems are installed in layers. Alternating asphalt or tar and supporting fabrics directly onto the roof, the number of layers (or plies) installed are decided by the owner and the contractor. Stone or gravel is used as the final layer of roofing material.
There are several advantages to installing a BUR roof. They can last upwards of 40 years if properly installed and maintained regularly. Other advantages include protection against UV Rays, minimal upkeep and the fact that they are seamless and waterproof.
Metal Roofing
Metal Roofing is not only one of the oldest commercial roofing systems it is also the most popular due to there being so many kinds of metal materials on the market. Most metal roofing systems use corrugated galvanized steel, although other materials such as aluminum or tin can also be used.
Metal roofing is very versatile in that it can be installed on top of the existing roof and if properly cared for, it can last up to 40 years. Other advantages include stability against high winds and snow, and it is fire resistant. Of course, metal is susceptible to rusting from prolonged exposure to the elements. After a metal roofing system is installed, a coating should be added for waterproofing and rust protection as well as UV protection.
Modified Bitumen Roofing
A standard modified bitumen roof system is applied in rolls that overlap the edge of the previous roll. These roofing systems are generally fastened to commercial rooftops as two-ply systems, adhered to the roofing deck using the common torch method, asphalts, or cold adhesives for maximum stability and protection. Reinforced fabrics act as "carriers" for bitumen, which is later cut and installed in layers like BUR membranes.
This type of roof may be the ideal choice if you expect there will be a lot of foot traffic on your roof as they offer enhanced tensile strength compared to other roofing types. Annual inspections and cleaning are generally all the maintenance these roofing systems need.
Roof Membrane
Also known as EPDM or single-ply membrane roofing, the thermoset roof system offers long-lasting durability and versatility. Single-Ply Membranes are sheets of rubber and other synthetics are mechanically fastened or chemically adhered to insulation creating a layer of protection on your commercial facility.
Compared to most other commercial roof types, EDPM requires a simple installation and is easy to maintenance/repair. It is also highly resistant to ultraviolet light and ozone. Other benefits include great flexibility in colder temperatures, resistance to some acids, solvents, and alcohol, and reflective properties that help lower cooling costs. This type of roof can last up to 30 years.
Thermoplastic Roof Membrane
This roofing system is the natural choice for restaurants and other businesses that emit oils and/or fats from their ventilation systems. Thermoplastic Polyolefin (TPO) and Poly Vinyl Chloride (PVC) roofing systems are lightweight, highly reflective, and provide excellent weathering and resistance to UV light, punctures/tears, oils, animal fats, and bacterial growth. The seam strength offered by thermoplastic roofs make it ideal for second-generation applications, too. Other benefits range from a high-temperature tolerance to high resistance to fire and high winds.
Spray Polyurethane Foam Roofing
As one of the more eco-friendly roofing options, Spray Polyurethane Foam (SPF) is a material that is sprayed as a liquid so it can expand into a foam, creating a solid layer across an existing roof. It is not the most well-known type of roofing materials, but the technology has been around since the early 1960s. An SPF roofing system can be used in any climate, and when correctly installed and maintained, can last over 50 years.
There are quite a few benefits of SPF roofing systems. The foam material can expand and contract with the building, making it durable and the lack of joints or seams makes it waterproof.
Green Roofing
Green roofs have become popular in recent years and are one of the more adaptable roof types. They are the most sustainable option for commercial properties and businesses. These beautiful roofs are designed to protect commercial buildings from the elements while simultaneously managing water, drainage, and improving energy efficiency. They are also the best choice in making steps toward a more sustainable, environmentally friendly commercial property.
---
Let Us Be Your Roof Experts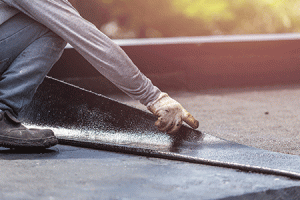 A quality roof is a vital part of any building, including your business. When it comes to your roof, we have the team, quality materials and expertise to take care of your office building. We have over 20 years of experience installing commercial roofs and can perform any type of roof work.
Do you need to replace your roof or install a roof on new construction? Give us a call to speak to one of our expert contractors and get an estimate today!
---