Choosing a roofing professional is a big decision. A roof is a vital part of any building, so it's important that you don't entrust it to just any roofing contractor. Whether you're a building owner looking for commercial roofing or a homeowner looking for roof maintenance, it's a significant investment that you won't want to see wasted. You know that you want a sound roof built and maintained by a qualified worker – but where should you start? What should you look for while making your decision? In this blog post, we'll talk about a few things to keep in mind while choosing a company for your project, whether it's a simple roofing repair or a full roof installation.
What Makes a Good Roofing Contractor?
Choosing a roofing contractor isn't always an easy task. There are many contractors out there, and the best ones have a wide range of experience and many satisfied customers to show for it. They'll also have a lot of quality roofing jobs you can see for yourself. Ask about their portfolio in addition to these other points:
Are They Certified for the Job You Need?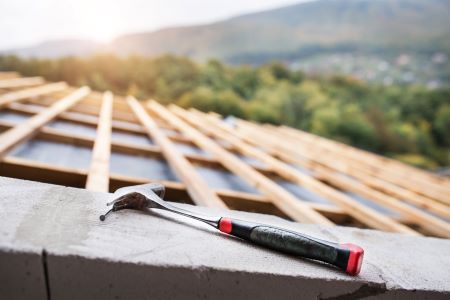 There are a wide range of roof types both for commercial and residential properties. It's important to ensure that the contractor you choose has the qualifications to get the job done. The skillset and type of roofing material required for commercial roofs can be very different from those of residential roofs, and it's important to make sure you're hiring a qualified roofing contractor for the job.
Whether you're looking for a roof inspection, preventive maintenance, or a full roof installation, you'll want to look for the most qualified professional services you can to ensure your job will be done well. Checking to ensure that a potential contractor has the proper licensing to do the work you need is a vital step that should not be overlooked. It can save you from fines and other inconveniences down the line.
Do They Offer Warranties?
A professional roofing contractor should offer warranties on any jobs they do. This means that they have confidence in their work. The knowledge that they'll correct any problems that come up after the job is done is excellent for your peace of mind. Not only that, it'll save you money if something goes wrong with your roof repair or roof installation. Make sure you ask about the material warranty as well, to make sure your roof lasts as long as possible.
Are They Insured?
It's very important to know whether your chosen contractor is covered by liability insurance. A roofing professional should make sure that you or your property won't be liable if anything goes wrong during a roofing project. The company should also ensure they have the correct building permit to do the job. Verifying that your chosen company has proper insurance can save a lot of trouble in the long run.
How Experienced Are They?
To have the best odds of a proper roof replacement or repair, you should choose a reputable roofing business with many years of roofing experience. The best way to be sure you're making a good investment is to choose an experienced contractor. An established roofing company will have a good track record in its area. It's better to bank on a reputable contractor than one new to the industry. Of course, newer companies might also be up to the task, but it's still safer to go with an industry veteran. Many companies provide a variety of services; make sure you ask!
What Roofing Materials Do They Work With?
There are a wide range of types of roofing materials available to roofing contractors, and not all contractors work with all materials. If you want to build a roof with a specific material, you might find that not every company lists all materials in its portfolio. Before deciding on a company, make sure they work with the type of roofing material you want to use in your project – and check their other jobs to ensure they meet your standards.
Ask Around
When looking for a reputable roofing contractor, don't just take the company's word for it. Ask around in your community for customer opinions! The best way to feel confident in your choice of roofing services is to know that other people were satisfied.
Look for Reviews
It's important to get a good look at other people's opinions on the company's work. Check their website for testimonials and look online for reviews. It's best to check multiple sources to get a good idea of how well the company really does their job. Also, ask prospective companies for examples of their past work. If their past jobs look good to you, it's a good sign they'll be able to handle yours.
Word of Mouth
Ask friends, neighbors, or fellow business owners for their opinions. If they've had a roofing job done before, chances are they have a company to recommend. If it's a popular service, there's a reason for that. Knowing that someone you trust has a good opinion of a potential contractor goes a long way to finding a worthwhile candidate.
Consider Multiple Options
It's always a good idea to consider a wide range of contractors for the job. Not only does this let you better understand your options, it can help ensure you get the lowest price available for your roofing project. Ask multiple companies for an estimate on the job you want done. This will help you assess which of those companies are being honest about the price of your project, and get you more accurate estimates.
There's more to this decision than price, though; a high price does not necessarily mean high quality, and a low price does not necessarily mean low quality. Gaining knowledge about the industry can give you an edge when it comes to getting a good price. It pays to shop around.
Check for Flexibility
It's also important to know whether a roofing contractor is willing and able to work on your schedule. Depending on the extent of your roofing project, it could take days or weeks to complete; roof maintenance is quicker, whereas roof replacement takes longer. It's important to make sure your chosen contractor is communicative. This way, if they run into a problem or you would like to raise a concern, you can make sure you hear each other. Your contractor should keep you informed on their progress and talk to you about your options.
Call Pioneer Roofers!
At Pioneer Roofers, we take pride in our roofing services. We make sure your roofing project gets done right the first time, every time. Our dedicated team of professional roofers has over 20 years of roofing experience working with a wide variety of materials in all sorts of projects. You can count on us to be open and honest about the state of your roof. We're committed to quality workmanship and outstanding service. We'll be your go-to Portland roofing company. Large or small, commercial or residential, roof maintenance or roof replacement, we have the skills to handle them all – so check out our website and give us a call!