Roofing: Every Portland Homeowner's Most Important Decision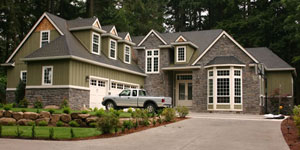 Every home or building has its own needs depending on a wide variety of factors. Every structure needs a roof. Deciding which type of roof to go with can be a little confusing, but each has its own advantages and setbacks that need to be taken into account. If you are considering a pitched roof for your home, there are several things to keep in mind before construction begins. There are many factors that are in play with pitched roofs, including climate, living conditions, aesthetic needs, and others. Use this brief overview to help you figure out what you are getting with a pitched roof.
Advantages of a Pitched Roof
There are many advantages of a pitched roof here in Portland.
Traditional Aesthetic
One advantage of a pitched roof is its traditional aesthetic. Many homeowners prefer the pitched roof because it gives off a more homey vibe that makes a residence feel more like a place to come home to rather than just a place to stay.
Water Drainage
Pitched roofs are far more effective when dealing with excessive weather as well, including heavy rain and heavy snowfall. The roof works to direct the water away from the home and leaves little chance of standing water finding a home above the house. If you live in a place that suffers through extreme weather conditions often, a pitched roof is probably your best option to make sure you are covered for many years.
Durability
Contractors find Pitched Roofs also tend to be more durable than other options, as they are built to withstand stronger conditions. Most roofs in the Portland metropolitan area are pitched roofs.
Despite the benefits, which are many, the pitched roof does have some drawbacks. They obviously cannot be used for buildings with too many multiple levels or complex plans. It would not be practical. You also cannot do as much with a pitched roof in regards to architecture. You are pretty much set with the one design. Pitched roofs are also more expensive to install and maintain. However, while pitched roofs have these drawbacks, they are the clear choice for people living in places with harsh weather conditions, as other roof designs would need far more care if exposed to heavy rain or snow. The choice ultimately comes down to climate and personal preference.
Why a Pitched Roof Works Well in Portland
With the frequent precipitation here in PDX, a pitched roof offers many benefits to homeowners. As mentioned earlier in this article, pitched roofs are appropriate for wet climates. Pitched roofs help Portland-area homeowners keep water away from the house's siding and from settling on the roof and causing significant issues such as premature aging of roof shingles and leaks.
Pitched roofs aren't just practical for the PNW, they fit in with the aesthetic. Look around at your neighbors. You'll find that most of them have pitched roofs in varying styles, as pitched roofs allow for the most leeway when it comes to design. If you're remodeling your home but still want to fit in with the neighbors, pitched roofs allow for creativity and functionality.
---
How Can Pioneer Roofers Help You?
If you are ready to install a pitched roof on your home, have a professional roofing contractor help you with the process. A professional can make sure your roof is installed correctly and can give you a lot of advice on the proper care and treatment methods to use to ensure your roof lasts a long time.